Bob hairstyles for women have officially been popular among women & the popularity of black bob hairstyles with weave has soared to a different level recently. Women have not only embraced bob cuts but also made it their go-to hairstyle.
Every woman wants to stand out with their appearance & create a statement by making them a little different from others; that is what bob hairstyles with weave can do. This article will discuss how you can style your hair with bob hairstyles with weave and why you should consider bob hairstyles with wigs.
What Are Bob Weave Hairstyles?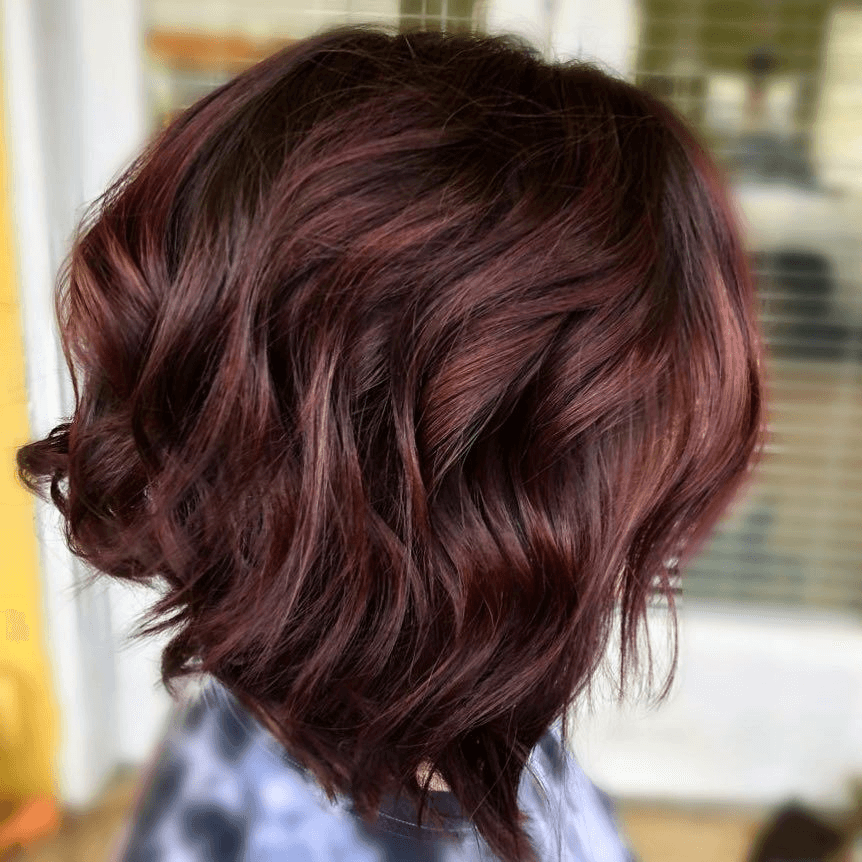 A bob cut, also known as a bob, is a short- to medium-length haircut, in which the hair is typically cut straight around the head at about jaw-level. The standard bob is typically cut between or just below the ears' tips and well above the shoulders.
A weave is a process by which hair extensions can be added to hair or a protective cap.
Weaves are a fantastic option for getting your desired hairstyle in minutes without wasting any time. It is a straightforward and quick process than any other method available in the market to get a new look. It is the best & convenient method as you can change your hairstyle daily based on occasions and mood.
It is also a very cheap and fast method to acquire a stylish look, as it can be achieved at home without anyone's help.
Benefits Of Bob Weave Hairstyles:
Adjust your hair length and volume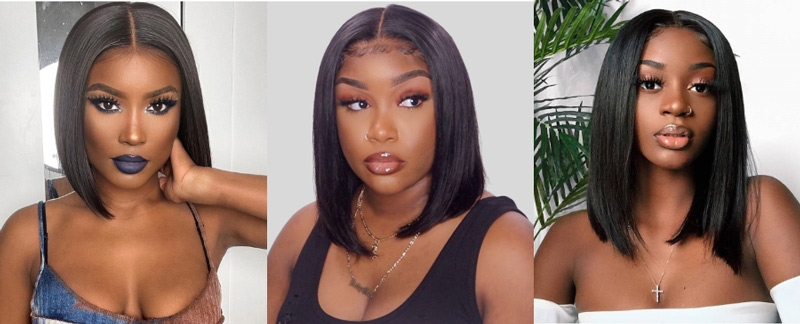 Women can easily adjust their hair length by using weaves. If they want a specific type of hairstyle, they can use weaves to achieve that. Women with shorter hair can use weaves to increase hair length without waiting for the natural hair to grow back, no standard size. Furthermore, anyone can add volume to their hair using weaves. It gives a lustrous look. It is an ideal solution to get a desirable look and hairstyle for different occasions in minutes.
Versatility
Different Bob hairstyles weave can be done depending on other factors like the woman's face, skin color & occasion. Depending on various factors, some may choose a straight bob hairstyle or a curly bob hairstyle. The blonde bob hairstyle is also soaring in popularity among black women.
With add-in weaves, anyone can step up their game furthermore as it adds different features.
Very Quick results
Weaves can be added in a short time. It also comes with many desirable colors making it an alluring proposition. It is best for those who continuously want to change their hairstyles and stand out in the crowd.
Proper Natural Hairline: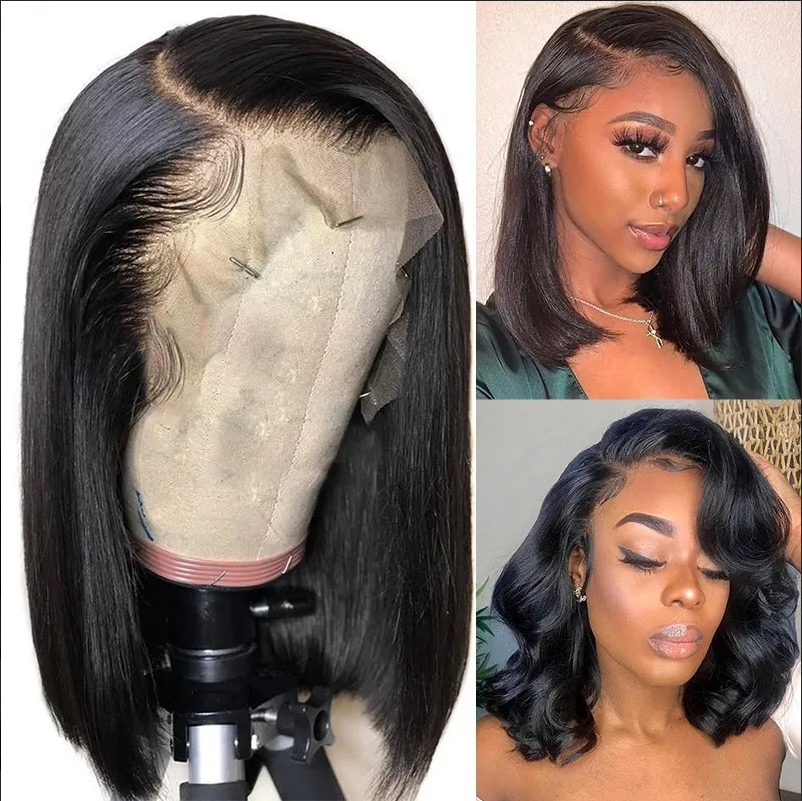 With a good quality bob hairstyle wig, no one can tell that it is fake hair or scalp. Nowadays, hair wigs have gone so far that it is impossible to detect phony scalp. Bob wig and weaves can blend well with proper hairstyles to give you an unmatched & undetectable stunning look.
Very Comfortable & easy to use:
Bob hairstyles wigs are usually 8-14 inches long, making it small, easy, and portable for day to day use.
Adding weaves are also an effortless task but can give a tremendous result.
High-quality premium Human hair materials:
The natural human hair material will most likely be more expensive. However, it depends on the product's nature & quality, where the wig is made, and the particular manufacturer. 100% virgin human hair will last significantly longer than any other wigs in the market. Also, Human hair wigs are less prone to day to day use damage.
It would be best if you always went for human hair wigs, which will serve you the best. It may cost you a bit more, but it is a must for the best appealing look. Most excellent quality bob hairstyles, wigs, and weaves are made from human hair you must choose while shopping.
Pre-plucked Hair wig
Good quality bob hairstyle wigs should have pre plucked hair in front. Without pre-plucked hair, your look won't look natural.
Pre-plucked baby hair gives the illusion of natural hair in front, which is essential for women who want to get the most natural & accurate look.
Guidelines For Going For Bob Weave Hairstyles And Closing Thoughts: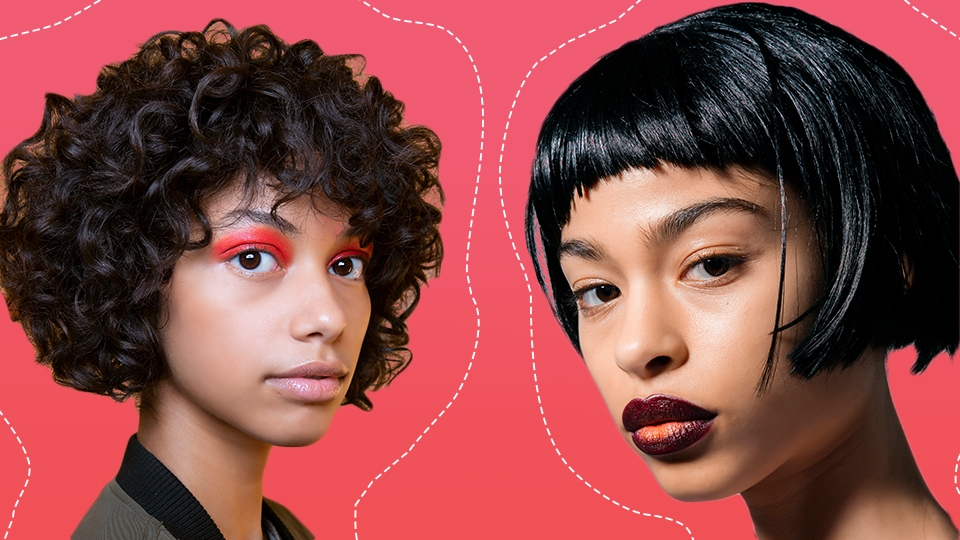 Be explicit to your stylist, beautician, or hairdresser on decisively what you need to accomplish. Bob cuts are the best since they give a wide range of looks that you should have. Regardless of whether you are considering having a stylish haircut or you need to go for a tomboy look, they entirely depend on your choice.
The best thing to know is that you can never turn out badly with a bob hairstyle with weaves because no matter how you choose to go, you will, in any case, look adorable.
We demand that you guarantee whoever is trimming your hair recognizes what they are doing before styling. On the off chance that your bounce cut is messed with before styling, at that point, you can't have the option to accomplish the style that you need. To avoid this mishap, you can always go for good quality bob wigs. Using a wig gives you more freedom and different choices to choose from.
The motivation behind trimming and using short hair is the fundamental aspect of the bob cuts. Regardless of whether you are going for a wavy look, the hair will look more beautiful after the twists have been exhausted.
After all these discussions, we trust you are prepared to try bob haircuts or bob hair wigs, get it trim to the weave style you need, and rock your haircut.
It doesn't make a difference why you are doing a weave sew in haircut because you feel great in it interestingly. Have a decent bob hairstyle wig from a decent store to get the best result.
If you can, then always choose 100% real human hair, 100% real human hair wigs and weaves will always bring out the natural look and in you. They will not only bring out the best look in you but also will last very long. They will provide you with the best value for money.