V part refers to a method of installing wigs. V part wigs are wigs that get rid of glue and fix on the head by clips. There is an inches-long V-shaped open, allowing people to blend their natural hair with human hair wigs. Covered by their own hair, wigs' edges hide inside. There is no need to worry about the exposure of wigs.
But, for some people who have suffered from bad disasters and hair loss, straight hairstyle seem difficult to make a shadow for the scalp and keep security. In this condition, V part curly wigs are recommended for women who love V part convenient installation and pursuit gorgeous curly hairstyles.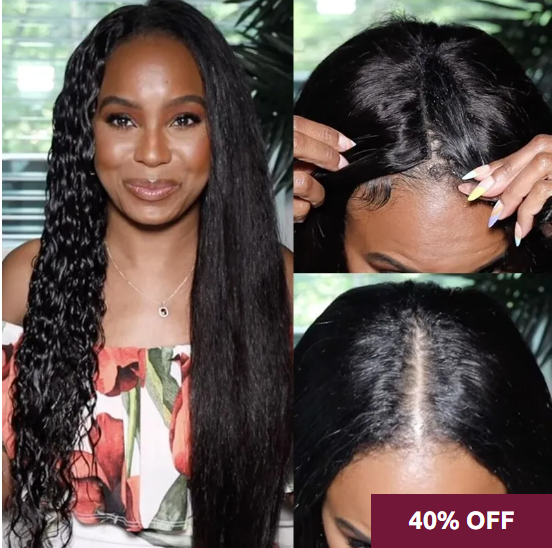 All the curly hairstyles can be made for V part, Jerry curly, kinky curly, body wave, loose wave, deep wave, water wave and so on. Multiple curvatures of curls suit for different type of face and body.
Big curls of hair, like curls of body wave and deep wave, increase the volume of hair, which balance big face well. If you have a square face or sharp bones, these hairstyles are good for you. They tone down your sharp features and be more friendly.
If you are soft with a small face and forehead, hairstyles that provide a less volume are made for you. Kinky curly or Jerry curly is the better option.
And please make sure you know how to pick proper hair density. Hair density is a measurement to judge how dense your hair is. The average density of women is 150. So, if you think you are common compared with others, the standard density 150 is great and do not determine the larger one.
Trust me, 150 density is dense enough to cover your own hair and the scalp. Choosing 180 hair density takes the risk of covering the edges of wigs. It seems wired to see a thin layer on the top of your head. It makes no sense for the security of v part curly wigs.